Accelerate your success.
We

make commercial easy.
Oakmont Capital Resources' success with clients comes through a special blend of vision and experience and the skillful application of time and effort. We provide expertise, dependability, and results. From a strategic plan to day-to-day management, we deliver.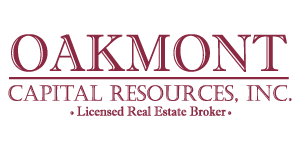 We built our business on an informed, timely response to clients needs by developing partnerships that go beyond a project or property. From full-service property management to leasing, site selection, and brokerage services, we manage each client's project and handle each property as if it were our own. The company is unmatched in its expertise and contacts in state government and private industry to help clients negotiate the complex statewide regulatory process.
Featured Properties
Find the ideal office, industrial or retail property for your team.
source specialized spaces for many types of spaces. Let us help guide
you to your next investment or leasing opportunity.
VIEW ALL OF OUR PROPERTIES
No featured properties have been selected.
Our Services
As a trusted partner of the RECOR Network™
Oakmont Capital Resources, Inc is able to fulfill your company needs worldwide.
Leasing
Oakmont's knowledge, experience and results-oriented approach to leasing services helps owners maximize income potential and full property appreciation. Our leasing specialists have handled the toughest leasing challenges, including transforming a near-empty shopping center into an attractive fully occupied specialty and community center. From the beginning, we establish a strategic plan based on the owner's objectives and the property's strengths. We define the market area and attributes. Rental rates and policies are based on market conditions and fairness to both tenant and owner. We design and implement aggressive marketing strategies to attract new tenants and/or retain existing tenants. We recognize that each project or property has its own unique issues and nuances, and we address each with a strategic, customized approach.
Brokerage Services
Oakmont excels in the strategic execution of complicated purchase and sale structures. By conducting an extensive pre-qualification review including financial analysis, competitive information and market conditions and trends, we match qualified purchasers with commercial real estate property. Whether you're a buyer for commercial real estate or looking to sell your project, Oakmont offers a track record of excellence. We pre-qualify potential buyers with a comprehensive sale package containing our market review and analysis. Our process allows buyer to make good informed decisions, and gives both buyers and sellers and efficient, rewarding experience. Earning Client's Ongoing Trust Our outstanding track record and expertise in brokerage services has earned us ongoing relationships with clients including McDonald's Corporation, Kimco Realty Corporation, AMB Institutional Realty Advisors, and many others.
Tenant Representation
Through our site selection analysis, we track emerging trends, area developments, and impact from state projects. We deliver answers to the critical questions to help you identify and select a successful site. Since the right location is critical to any project's success, Oakmont is experienced at helping clients answer the two most important location questions: "why this site?" and often times even more important, "why not this site?". Economics, accessibility, demographics, availability, and physical attributes of a property are carefully reviewed. Oakmont also offers professional representation to commercial tenants as well as property owners, dealing issues such as leasing and other business negotiations. If your commercial real estate needs include building or site selection, we're ready to listen to you. We listen carefully to your objectives for each project, and then develop a detailed plan of action to meet them.
Property Management
Oakmont gives owners and developers assurance of comprehensive services that will develop efficient and profitable operations and maximize earnings. Oakmont's experience, expertise and breadth of services make it the first choice for property management. Tenant Relations Oakmont's service-oriented approach fosters and maintains positive tenant relations that are crucial to retention and profitability. Facility Management Oakmont's comprehensive facility management services include analyzing maintenance and contract services and construction management. In-depth Financial Tracking and Accounting In-depth budget and monthly income and expense projections are among key strengths Oakmont offers clients, with meticulous attention to variance reporting and capital tracking. Each property's performance is carefully monitored against budget, and we provide owners a complete detailed overview of all aspects of the property to track performance and increase profits.
Contact Us
Have some questions? Start a partnership with us today.
---
Connect with us
---
Have a question? Our team is here to help answer any questions you may have.
Powered by RECOR Network™